The Blue ceremony is for these degrees:
Associate in Arts and Sciences;
Associate in Business;
Associate in Math Education
Associate in Music
Associate in Science
In case of technical issues, you can contact Microsoft Support for this event at:
Support
You can watch the event from Teams on your computer, laptop, or mobile device. On mobile devices, such as iPad, or Android, it will require downloading the free Teams app from your App store.
In Teams there will be a chat feature where you can add congratulations. Look for Q&A to add your submission!
You can also watch it on YouTube from the link below. 
Translations are available as text for these languages:
Arabic, Chinese (Simplified), French, Japanese, Korean, Spanish, Portuguese, Russian, and Vietnamese.
Click Here
to access alternate languages. You will need to open a separate browser window to view the translations while watching the video. You can select which language you want from the drop down menu in the upper right hand corner.
FOR TEAMS PLEASE FOLLOW THESE DIRECTIONS. THE LINK IS BELOW.
After you click on the link to the stream, your browser will open up 2 pages.
If you are on a computer, on the first page you come to choose WATCH ON THE WEB INSTEAD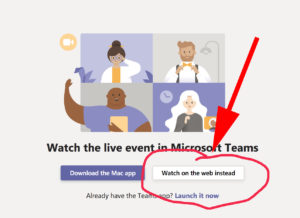 (Your device might skip this next page and go directly to the event) On the second page you come to choose JOIN ANONYMOUSLY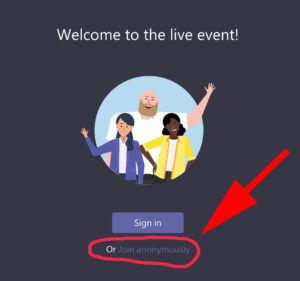 CLICK HERE FOR THE BLUE COMMENCEMENT CEREMONY IN TEAMS