The captions you'll see are only a demo. They are from the I Have a Dream speech by Martin Luther King
YOU DO NOT NEED TO DOWNLOAD ANY SOFTWARE TO WATCH THIS EVENT. PLEASE FOLLOW THESE DIRECTIONS. THE LINK IS BELOW.
After you click on the link to the stream, your browser will open up 2 pages.
On the first page you come to choose WATCH ON THE WEB INSTEAD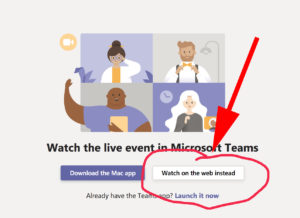 On the second page you come to choose JOIN ANONYMOUSLY